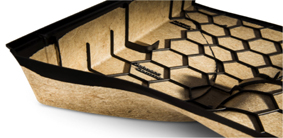 At the forthcoming 2013 North American International Auto Show (NAIAS) in Detroit from January 14-27, Johnson Controls will debut its lightweight Compression Hybrid Molding (CHyM) process technology in a door panel substrate component.

"CHyM is the latest example of our efforts to develop and differentiate ourselves in the industry through sustainable and innovative lightweight technology," said Han Hendriks, vice president of advanced product development.

The CHyM process technology integrates the advantages of both natural fibre nonwovens and thermoplastics, allowing these technologies to be positioned exactly where they are needed in composites for maximum product performance.

Additional benefits are said to include a 40% weight reduction compared to traditional polypropylene and an increase in stability through the combination of natural fibre and glass-filled polypropylene.

CHyM also provides among the highest strength-to-weight ratio when compared to products in the same cost category, a 30% increase in product stiffness and improved assembly to the body-in-white and part-to-part craftsmanship.