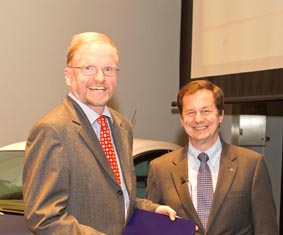 The newly-created General Motors Supplier Quality Excellence Award has been presented to nonwovens manufacturer Ziegler, headquartered in Achern, Germany.

Ziegler supplies acoustic insulating materials to the European factories of General Motors and its products are used in various seat applications of GM Group brands around the world.

"This reward reflects our uncompromising commitment to quality," said MD Peter Hartwig. "My thanks go to all our employees, whose professional work enabled us to win it."

Dr Harwtig is pictured (left) with Michael Ableson, vice president of Opel/Vauxhall Engineering for GM, at the award ceremony in Germany.