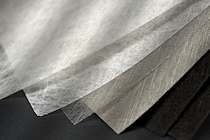 Colbond reports that following the successful completion of new manufacturing lines at its plant in Emmen, the Netherlands, and additional capacity at its US plant in Asheville, North Carolina, it is preparing for further growth to meet demand, particularly in emerging markets.

Over the past few years the company has also completed major R&D and technology sustainability programmes and in order to make its strategy more visible to external stakeholders is now planning to obtain formal environmental certification. The company is consequently launching a study of the international certification market.

Among new products the company has recently developed are a number of new Colback reinforcements.

As a result of their specific properties and performance Colback nonwovens have delivered advantages for waterproof bituminous roofing membrane producers – both during manufacture and in service – for the past 35 years. One new Colback variant has been specifically designed for the manufacture of roofing underslaters.

Suitable for bitumen-based as well as for coated or laminated underslaters, the key to its performance lies in the thinness of the bicomponent fibres employed in the nonwoven – they are as low as one fifth of the thickness of traditional Colback fibres. The result is a fabric with an even higher degree of mass evenness and a denser structure with the same high tensile and tear strength as standard Colback.

Anther new Colback variant is ideal for the manufacture of thin bitumen underslaters for shingles. Benefits delivered in this specific application include a significant reduction of so called 'pinhole effects' and enhanced surface evenness making it better suited for coating and laminating processes.