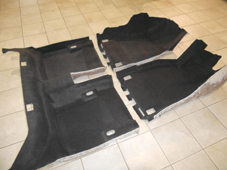 Following a fire that destroyed its plant in Newcomerstown, Ohio, Janesville Acoustics is to open replacement in Battle Creek, Michigan.
In the days following the fire, Janesville Acoustics shifted some production to one of its two plants in Norwalk, Ohio, which was scheduled to close in 2011 but was kept open temporarily until a replacement for the Newcomerstown facility could be identified.
This production will now be gradually transferred to Battle Creek and, in keeping with the original plan, the Norwalk plant will close in approximately six months.
"The decision to choose a location other than Newcomerstown is one that we did not take lightly," said David Cataldi, Janesville's president. "We greatly value the service of the men and women who were employed at this facility and the outpouring of support received from the community in the aftermath of the fire. While we looked at various ways to maintain a presence in Newcomerstown, the reality is that the resources we require to meet our evolving needs are not currently available there."
Key factors influencing the decision include proximity to key automotive customers, the availability of an existing facility large enough to expand operations and access to a technical college partnership to ensures a continuous stream of skilled workers.
Despite the establishment of a new plant in Battle Creek, Janesville Acoustics intends to maintain a presence in Ohio, with its Industrial Parkway plant in Norwalk.
Janesville Acoustics is a leading producer of acoustical and thermal fibre insulation and moulded fibre products. A Tier I and Tier II supplier to the automotive and transportation industry worldwide, the company is the recipient of numerous 'outstanding supplier' awards from the automotive manufacturers with which the company does business and the industry at-large.
See also:
Price, price and price are the key pressures facing suppliers of nonwovens and components to companies like Chrysler, Ford, GM, Nissan and Toyota.
"The fourth pressure is the need to couple performance with options. Vehicles each have their own NVH (noise, vibration, harshness) signature, a characteristic that is determined before the vehicle is even built. To accomplish that signature, a balance between all vehicle parts is essential."
Michael Sargent, director of product management for Janesville Acoustics, fields questions on what it takes to find success in the automotive industry, and the trade-off between sustainability and recycling.