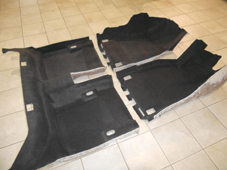 Janesville Acoustics, a leading global supplier of nonwovens and composites to the automotive and transportation industry, has officially opened a 90,000 square foot plant in central Mexico.

The plant – which is located in Celaya, Guanajuato – will provide Janesville with a strategic location from which to support the growing automotive industry in the region.

"Janesville Acoustics recognises the value of manufacturing and supplying products in close proximity to our customers," said said president David Cataldi. "Therefore, adding a plant in Celaya, where we are within arm's reach of several vehicle assembly sites, made perfect business sense. As the global automotive industry continues to increase its presence in Mexico, we anticipate Janesville's Mexican footprint will expand in response."
The addition of the Celaya plant marks the company's second manufacturing facility in Mexico. In 2000, it opened a plant in Uruapan, located in west-central Mexico.
Janesville invested approximately $4.5 million to establish the Celaya plant, which is located in a leased facility. Within two months, the company expects to employ 150 individuals at the location, 63 of whom have already been hired.

The plant will produce parts employed to manage vehicle acoustical performance and features a nonwoven felt line for the production of the company's Marabond material along with compression moulding presses, and water jet trimming equipment.

• An interview with Michael Sargent director of product management at Janesville Acoustics, will appear in Issue 2 of Sustainable Nonwovens, out June 1.