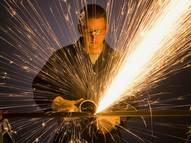 Lighter base weights and a higher wash durability compared to competing fabrics are two of the notable features of Norafin's Komanda nonwovens for protective apparel, along with enhanced flame and heat protection.

Now being launched commercially in Europe and North America, the spunlaced materials are a high performance alternative to traditional textiles.

They meet the requirements of the US flash fire protection standard NFPA 2112, surpassing the Pyroman manikin burn criteria, and also the European flame protection standard EN 11612.

A Komanda material with a base weight of 275gsm also complies with standards NFPA 70E and EN 61482 in providing protection against the thermal effects of arc flash.

In terms of wash durability, they can endure 300 cycles of home laundering without any abrasion and 100 cycles of industrial laundering while keeping their appearance.

Available in a wide range of colours, with high-visibility options on the way, all in all Komanda nonwovens achieve the performance of many double base weight textiles in just a single layer and extremely long-lasting product.