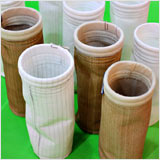 A huge surge in demand for bag filters and other filter media is being experienced in China following a change to the nation's emissions laws introduced at the start of the year.

These now apply to China's vast iron, steel and cement industries, as well as its coal-fired power plants.

On pure emissions alone China emits more CO2 than the US and Canada put together – up by 171% since the year 2000.

But interviewed in Groz-Beckert's latest company newsletter, Yusheng Tian, general manager of leading Hong Kong-headquartered nonwovens producer Costin, pointed out that the latest law allows a maximum of only 30mg/Nm³ of dust and pollution, compared to previous emissions which could be in the range of anywhere between 50 to 200mg/cm³.
Log in or subscribe to see this content