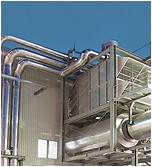 Freudenberg Filtration Technologies is to acquire Pyramid Filters, based in Pune, India.

Pyramid develops and produces air filter elements and systems for cleanroom applications in the pharmaceutical, medical, food and chemical industries, with annual sales of several million Euros.

The business will comlpement Freudenberg Filtration Technologies India, which provides industrial and automotive filter elements and systems, as well as globally patented system solutions for capacity and efficiency enhancement in gas turbines and compressors.

Separately, Freudenberg has established a new joint venture company with Japan Vilene called Freudenberg Vilene Filter (Chengdu) – the third filter manufacturing site for Freudenberg Filtration Technologies in China.

The other two sites which are already operating are in Suzhou and Changchun. The new site in Chengdu began manufacturing automotive filter segments in January, with the production of engine air intake filter and cabin air filters expected to begin in

Major car manufacturers operating in the Chengdu region include First Automotive Works Volkswagen and Geely Volvo and car production there is expected to grow rapidly, from 1.8 million units in 2011 to 3 million units in 2015.