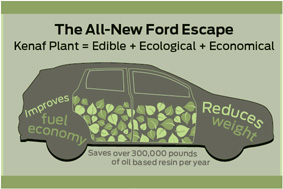 The door bolster of the all-new Ford Escape is made from composites of 50/50 kenaf and polypropylene.

This, says the company, will offset 300,000 pounds of oil-based resin annually in North America, while also reducing the weight of the door bolsters by 25%.

Kenaf is a tropical plant that looks similar to bamboo and is related to cotton. It is converted into nonwovens and then composites by International Automotive Components (IAC) in Greencastle, Indiana.

"Kenaf and the other renewable materials in the Escape have made the vehicle more environmentally friendly and fuel efficient," says Laura Sinclair, materials engineer for Escape.

Kenaf oil is used in cosmetics and the fibre is also used as an alternative to wood in the production of paper. The upper leaves and shoots of the plant are edible.

The new Escape features several other eco-friendly components including soy foam in the seats and head restraints; plastic bottles and other post-consumer and post-industrial materials in the carpeting climate control gaskets made from recycled tyres and more than 10 pounds of scrap cotton from the manufacture of denim jeans.

The new Escape meets the USCAR Vehicle Recycling Partnership goal, since over 85% of it is recyclable.