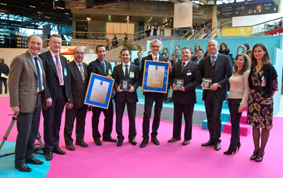 Swiss company HeiQ Materials and its partners TWE and BST received the Silver EEP Award for Oilguard, its water-repellent and oil-absorbent engineered nonwoven fabric.

The EEP Award is an initiative of European Environmental Press (EEP) in conjunction with Pollutec, the leading French environmental trade show, with the support of ENEP (formerly EFAEP, the European Federation of Associations of Environmental Professionals).

This annual prize is designed to commend European companies leveraging new technologies to benefit the environment. Competitors come from a wide range of sectors, including waste, energy and wastewater.

Oilguard, devised to help combat oil spills, can be up to 2 metres wide and roughly 200 metres long, so it can be rapidly rolled out over vast stretches of shoreline when an oil spill occurs. As a result, precious coastal ecosystems can be protected from contamination.

The partners developed it in response to the devastation caused by the Deepwater Horizon oil spill in 2010 with immediate results –the material was trialled in the Gulf of Mexico and proved highly effective.