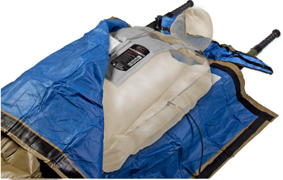 Life saving gear based on DuPont's advanced nonwovens and films such as Kevlar, Nomex, Tyvek and Kapton are critical to the company's approach to sustainability based on the three key pillars of food, energy and protection.

In the latest development in this field, DuPont's Electronics and Communications business has teamed up with North American Rescue (NAR) to introduce a new range of battery-activated hypothermia prevention products focused on decreasing preventable death and improving patient outcomes through thermal management.

NAR's ARC°tc suite of hypothermia prevention products, including Thermal Wrap, HPMK and Cocoon, are enabled by Kapton polyimide film and conductive thick film inks that provide critical heating capability even in the most challenging field environments.
Log in or subscribe to see this content