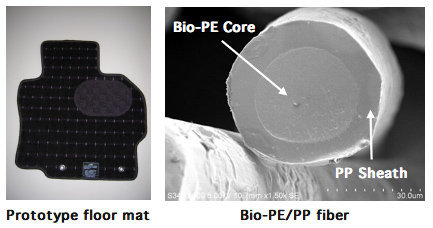 Mitsubishi Motors plans to introduce new nonwoven floor mats made from plant-based bio-polyethylene (bio-PE) fibre in selective vehicles during 2012.

Bio-PE is a plant-based resin made using sugarcane molasses and developed with Japanese companies Eidaikako, MRC Pylen and Toyota Tsusho Corporation. The fibre has a core-sheath structure in which the bio-PE core is covered with a conventional polypropylene heath which allows it to meet the high levels of performance demanded of car floor mats – especially in respect of abrasion and heat resistance.

In-house calculations indicate that the new mats achieve a 15% reduction in life-cycle CO2 emissions over those made solely from polypropylene.

Mistubishi's 'Green Plastics' initiative has already resulted in commercial automotive parts such as materials made using liquefied wood-based phenolic resins and interior surface materials which combine PET and cotton fibres.