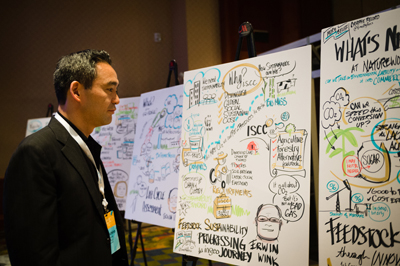 Ingeo PLA-based fibres are going from strength to strength in the nonwovens industry as elsewhere, but at the 5th NatureWorks Innovation Takes Root conference, it became clear a much bigger prize is being pursued. Adrian Wilson reports from Florida.
NatureWorks has produced some two billion pounds of Ingeo biopolymer since its plant in Blair, Nebraska, was opened in 2005.
Despite the plummeting price of oil in the past two years, the company's earnings have remained stable, for reasons that will become clear. NatureWorks is now present on five continents, and having established an unexpected new market in 3D printing over the past few years, has performance chemicals in its sights as a next immediate market expansion step.
The ambitious project with biotech company Calysta to produce next generation feedstocks from methane, however, is being backed by the US Department of Energy and if successful, will result in raw materials for Ingeo which shrink its production cost to a level that is well beyond the reach of any petrochemical-based polymers.
Log in or subscribe to see this content