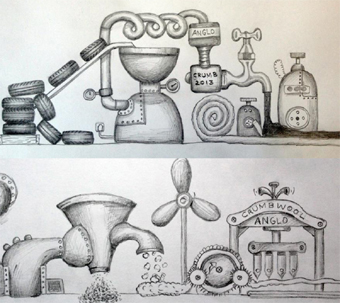 Nonwovens are now playing a modest but growing role in the waste management strategy of the John Lewis Partnership.

The much-admired UK retailer – in which all 84,700 staff are shareholders in a £9.5 billion business – has launched a new plan to streamline its waste contractors and keep complete control of the waste flows from its 39 John Lewis shops and 292 Waitrose supermarkets across the UK.

"We want to be completely transparent in our approach to waste management and ensure that as much as possible is recycled and then reused in our own businesses," says recycling and waste operations manager Mike Walters. "We are committed to keeping ownership of our waste all the way to its final destination, rather than selling it to the highest bidder, or losing control over what happens to it."

In January this year the partnership committed to developing a closed loop waste plastics strategy through a contract with Liverpool-based recycler Centriforce Products – believed to be a first for any UK retailer.

The new arrangement will guarantee that thousands of tonnes of plastics waste from Waitrose and John Lewis shops are recycled into usable products by Centriforce, the UK's largest independent plastics recycler.

The retailer is also exploring opportunities to reuse Centriforce products such as plastic planks, boards and sheeting in its new store construction programme, in order to achieve a true closed loop in its plastics waste stream.

As part of its home furnishings offer, John Lewis shops also stock a considerable range of carpets and provide comprehensive fitting services and it's here that nonwovens come into the picture.

It has teamed up with Anglo Recycling, based in Rochdale, Lancashire, a specialist in the airlaying and needlepunching of natural and recycling fibres.

The carpet fitting teams working for John Lewis in the Manchester area are now bagging up their carpet off-cuts and fitting waste which is collected and reprocessed into a new underlay by Anglo. This is then sold alongside the carpets in John Lewis stores.

Anglo also manufactures CrumbWool in association with Wools of New Zealand. This is another high grade carpet underlay made from recycled wool and with a backing of recycled tyres.
The key benefits of the CrumbWool underlay are said to be:
• Sound insulation. Wool absorbs sound from the air while the rubber absorbs noise from footsteps.
• Increased lifetime. A good underlay reduces the impact of traffic on a carpet to keep it looking good. CrumbWool is designed to assist the maximum life expectancy for wool carpets.
• Toxin absorption. Wool absorbs nasty chemicals like formaldehyde from the air and can lock them away for up to 30 years.
• Reduced home heating costs. Wool is an excellent heat insulator and underlay stops heat escaping through the floor.

Illustrated are Anglo Recycling's in-house processes, as imagined by Steve Parsons of Wools of New Zealand.