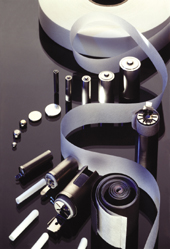 Global investments in renewable energies are steadily growing and research and development will play a central role when it comes to expanding the use of such technologies.
But the amount of electricity that can be generated is relatively fixed over short periods of time and this is a real challenge for the electricity sector, says Freudenberg.

Developing technology to store electrical energy to make it available to meet demand whenever needed would represent a true milestone in electricity distribution.

Kyoto spur
Freudenberg's research and development effort is spurred on by global trends such as mobility, climate change and the use of renewable energies, while the demand for wind energy is also growing and this will continue over the coming years, the company believes.

"These developments are driven by the CO2 emission limits set out in the Kyoto Protocol," says Thomas Petzel, general manager for Freudenberg Industrial Nonwovens. "The world has limited resources of oil and other fossil fuels and therefore the need to use renewable energies is steadily growing."

Consequently, Freudenberg Industrial Nonwovens has stepped up development work in the fields of energy storage and transportation. Its portfolio now includes battery separators, gas diffusion membranes for fuel cells and new materials for high-voltage cable insulation.
Log in or subscribe to see this content