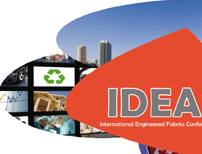 Major renovations scheduled for the Miami Beach Convention Centre mean INDA's IDEA 2016 exhibition will move to Boston.

To accommodate the show's continued growth, the Boston Convention & Exhibition Center (BCEC) offers IDEA a space equivalent in size and shape to that of Miami Beach and will be the only event occurring at the venue between May 3-5 2016.

The highly successful IDEA2013 drew close to 7,000 industry participants to Miami Beach from 72 countries to conduct business with industry members and INDA expects the Boston show will attract similar numbers.
As "America's Walking City," Boston offers an activity-filled waterfront location with world-class hotels, restaurants, historic and cultural attractions and nightlife for continued interactions after show hours. Boston is easily accessible by plane for international and national visitors with an excellent train service from New York City.
With dramatic, sweeping views of Boston's expanding waterfront, the state-of-the-art BCEC provides flexible exhibitor space, a dynamic video wall and media tower, on-site meeting rooms, and WiFi access throughout among other amenities.
"We are excited to bring IDEA2016 to Boston," said INDA president Dave Rousse. "The Boston Convention and Exhibition Center provides the large, contiguous, high-quality space we need for an event of IDEA's size and calibre without any other competing events, providing more value for our exhibitors. The city of Boston offers urban sophistication and New England charm with endless opportunities for conducting business, learning and socialising with industry colleagues and friends."