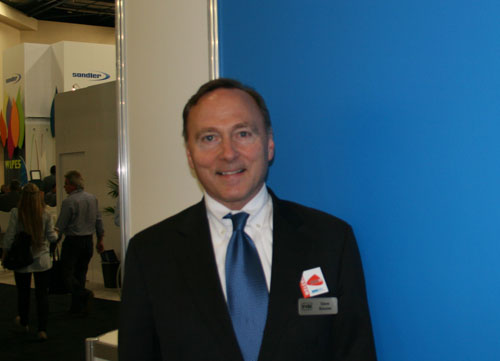 EDANA and INDA announced today at the IDEA show in Miami that they will join forces to promote the free and fair trade of nonwovens globally, starting with an active role in the upcoming US-European Union (EU) Free Trade Agreement negotiations.
As a start, EDANA will volunteer for the 'fast track' elimination of the current 4.3% tariff on nonwoven imports into the EU from the US. There are currently no tariffs on EU Nonwovens coming into the US.
"A large number of our member companies operate globally today or will in the near future. Creating a level playing field on tariffs will benefit them greatly as they expand globally," said Dave Rousse, INDA president (pictured).
"For the good of the industry and as a matter of policy, EDANA believes in free and fair trade and is willing to volunteer for elimination the current tariff on Nonwovens coming from the US. And there are a number of other countries with high tariffs on nonwovens that we can address as well," added Pierre Wiertz, EDANA general manager.
Responding to the rapidly expanding global nature of the nonwovens industry, the associations will work together to aggressively advocate policy changes that will enhance nonwoven trade between countries. To help guide their efforts, they will form an International Trade and Trends Advisory Board (T&T Board) composed of Governmental Affairs representatives from both associations and include representatives from each association's member companies.
In addition to tariffs, this group will also work on a proper classification of nonwovens for trade purposes. Most, but not all nonwovens, as defined by the global industry with reference to ISO 9092, are currently classified under section XI (Textiles and textile articles), chapter 56, heading 56.03 of the Harmonized System. This classification is grossly outdated, inadequate and insufficiently flexible, both organisations believe. In many countries, textiles are an important industry which has historically requested customs duties to protect domestic manufacturers. However, some of these countries do not have a robust nonwovens industry to protect, yet nonwovens get snared in the protective tariff policy. As a result, a separate trade classification of nonwovens, in their own category or as an engineered fabric, will be another objective of the T&T Board.