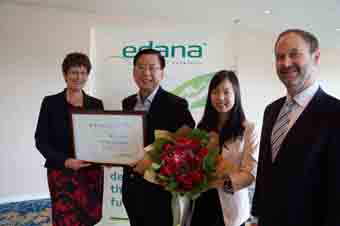 H.B. Fuller's CHM-1088ZP core adhesive won the inaugural EDANA Outlook Asia Award, which recognises innovative products and services for nonwoven personal care and hygiene products, made for, or by, the Asia Pacific and Indian subcontinent markets.

CHM-1088ZP is the latest example of how the company tailors product and process innovations to meet customer-critical needs for high performance diapers in the region. Developed at the company's Asia Pacific Hygiene Technical Centre, it is one of the highest performance core adhesives sold in China, with its high wet strength contributing to core integrity and enhanced core performance in the diaper.

"The global drive to create thinner cores for diaper products is now evident across Asia Pacific," said Heather Campe, H.B. Fuller's Asia-Pacific vice president. "This is set to continue, with innovation being accelerated through the effective collaboration of manufacturers and suppliers to develop optimal solutions.
"We are delighted to be recognised by EDANA and the conference delegates, who represented key hygiene industry leaders in Asia. By working together to discover, develop and deliver innovative solutions, we are helping to answer and solve some of the hygiene industry's biggest challenges."
Patricia Featherstone, chair of the EDANA's board of governors, announced the winner during the final day of the Outlook Asia conference on November 27.