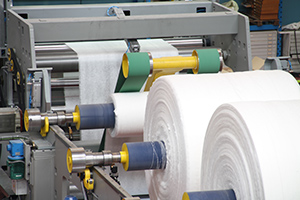 A cradle-to-gate LCA study confirms the significant environmental advantages of the new Arvell technology developed by Italy's Teknoweb for manufacturing wipes substrates.

The LCA was carried out at the University of Manchester in the UK in March and has now been peer reviewed and validated at the Thünen Institute in Germany, as required by ISO 14040.

It demonstrates that the Arvell process has impacts varying between 47-87% lower than conventional spunlacing and between 30-70% lower than the spun-pulp-carded (SPC) process, both of which are commonly used to manufacture such substrates for wipes. The parameters considered included raw material extraction, the transport of raw materials, wet substrate production and the treatment of production wastes.
A wet wipes substrate currently accounts for between 65-70% of costs for a wipes converter and Arvell has been developed in order to drive this cost down with an acceptable alternative.
The patented technology involves simultaneously spunbonding polypropylene and forming pulp into a single product. An alternative biobased version, Arvell Bio, replacing the polypropylene with PLA, is currently under development.
Full story in the next print issue of Sustainable Nonwovens.