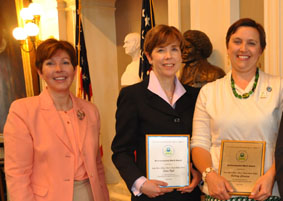 INDA has been recognised for its environmental stewardship with a 2014 US Environmental Protection Agency (EPA) Environmental Merit Award.

It relates to the public awareness campaign – Save Your Pipes: Don't Flush Baby Wipes – mounted by the nonwovens organisation aimed at reducing the amount of non-flushable baby wipes found in the wastewater system in Portland, Maine.
The award was presented to INDA during a ceremony on Earth Day, April 22, in Faneuil Hall, Boston, Mass.

The campaign was a joint effort with the Maine Wastewater Control Association (MWWCA) and Portland Water District, and included television and print ads, social media as well as supermarket signage. Initial post-campaign survey results show it led to a 50% reduction in baby wipes found in the wastewater systems with additional studies on the environmental impact continuing.
"This is an honor and great recognition of this collaborative campaign and INDA's efforts over the past decade to reduce the amount of non-flushable material in the wastewater stream," said INDA president Dave Rousse.
Log in or subscribe to see this content