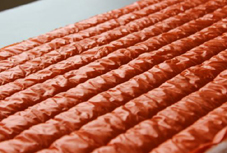 The latest nonwoven insulation material from Milan, Italy-based Thermore is actually 98% air.

As such, new Thermore Aria thermal padding is extremely voluminous and light, and ideally suited as the interlining material in ultra-light down and packable down jackets, in which its reduces bulk to a minimum for enhanced easy care.

Thermore Aria uses certified Oeko-Tex raw materials and reports have certified the product to be non-allergenic, highly breathable, non-toxic and, in particular, free of PFOA and PFOS (perfluorooctanoic acid and sulfonate) – the non-organic chemical substances recently denounced by Greenpeace as being dangerous for humans and highly polluting.

Thermore, founded in 1972 in Milan, is a worldwide leader in the research, production and marketing of thermal insulation for apparel and sleeping bags with operations in Europe, the USA and Asia, including production facilities in Thailand and offices in Hong Kong. Its focus is oon products that ensure the user's body temperature remains comfortable while offering maximum freedom of movement.

The company's Classic and Rinnova interlining ranges are meanwhile 50% and 100% constructed from post-consumer recycled fibres. Thermore's flexible thermal insulation range is particularly well suited for the outdoor and fashion industries, as a result of proprietary scrim-less design and fibre migration treatments.