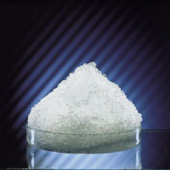 BASF, Cargill and Novozymes report an important milestone in their joint development of technologies to produce acrylic acid from renewable raw materials, by successfully demonstrating the production of 3-hydroxypropionic acid (3-HP) in pilot scale.

3-HP is a renewable-based building block and a possible chemical precursor to acrylic acid, which is the basis for, among other things, superabsorbent polymers (SAPs) used with nonwovens in hygienic disposables.

The companies have also successfully established several technologies to dehydrate 3-HP to acrylic acid at lab scale. This step in the process is critical since it is the foundation for production of acrylic acid. In August 2012, BASF, Cargill and Novozymes announced their joint agreement to develop a process for the conversion of renewable raw materials into a 100% bio-based acrylic acid.

"3-HP is a potential key raw material for the production of bio-based acrylic acid which is a precursor of superabsorbent polymers," said Teressa Szelest, senior vice president of BASF's global hygiene business. "We still have a fair amount of work to do before the process is commercially ready, but this is a significant milestone and we are confident we can continue to the next level of scale-up for the entire process in 2014."

BASF is the world's largest producer of acrylic acid and has substantial capabilities in its production and downstream processing. BASF plans initially to use the bio-based acrylic acid to manufacture SAPs. At present, acrylic acid is produced by the oxidation of propylene derived from the refining of crude oil.

"Our three companies have assembled highly talented and experienced joint working teams for this project," said Jack Staloch, vice president of biotechnology R&D at Cargill. "They've moved with speed and intensity, and have demonstrated great progress towardS accomplishing our goals."

Superabsorbent polymers derived from bio-based acrylic acid will be a groundbreaking new offer to the market, the companies believe. Diapers made of such superabsorbent polymers could meet the demand of a significant and growing group of consumers in mature markets in particular. They may also allow diaper producers to meet consumer demands, differentiate their products and contribute to their sustainability goals.