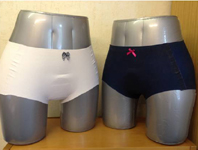 Tamicare CEO Tamar Giloh will be amongst keynote speakers at this year's Nonwovens Network UK Symposium which takes place on Thursday July 11 in Bradford, UK.

Tamicare has developed a new technology comparable to 3D printing which will see 100% natural and fully biodegradable hygienic disposable products on retail shelves in the near future.

Branded Fashion Hygiene, they are based on Cosyflex fabrics – new material constructions made from 100% natural materials which combine all-direction elasticity and microporosity.

Cosyflex fabrics represent a 15-year market exploration and product development period for Tamicare, which is based in Radcliffe near Manchester in the UK, where it has built a proprietary commercial production line, developed in cooperation with several leading global OEMs.

Cosyflex fabrics are made directly from cellulose fibres and Vytex natural rubber latex (NRL) – a patented, all natural raw material that retains the positive properties of latex. It is characterised by superior barrier protection, tensile strength, tactile sensitivity and elasticity, without the antigenic proteins and other non-rubber particles found in natural rubber latex.

Symposium details: Dinah Wharton, University of Leeds.
Tel: +44 113 343 3758
This email address is being protected from spambots. You need JavaScript enabled to view it.