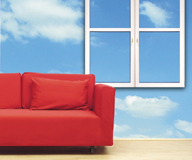 At the China Wallpaper Exposition in Beijing this week, Ahlstrom is presenting its expanded Easylife wallcovering range, with new products being introduced to strengthen the company's leadership in this field.

All of the company's new wallcovering substrates have been developed to reduce environmental impact, employ FSC pulp and are CE and RAL approved. Recycled polyester is used in several new products, a process that has reduced cradle-to-gate environmental impact by 10%

New nonwovens range from those with striking 3D appearances to enhanced backing and coated facing materials and Ahlstrom will also be partnering with HP to present EasyLife ranges digitally printed via the latest Latex printing technology in Beijing. EasyLife is quickly expanding into the digital arena and is being positioned as one of the leading substrates for nonwoven digital wallcovering applications.

In addition, Ahlstrom will sponsor the EasyLife Cup design contest being held at the event.