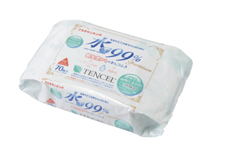 Akachan Honpo's Water 99% premium baby wipes are the first ever hygiene product to receive an award from the Japanese Kids Design Association.

This organisation's annual awards recognise new products designed to contribute to the safety and security of children or improve the comfort in raising children.

The Japanese retailer developed a 99% water lotion in 2004 which minimised the use of added ingredients and during 2010 opted to base its product on 100% Lenzing Tencel cellulosic fibre nonwovens.

"The strong message of environmental sustainability was a key factor in convincing the judging panel to present Water 99% wipes with the Japanese Kids Design Excellent Award," said Lenzing's business manager for Japan. "While other raw materials such as synthetic fibres are limited, Tencel offers a clear sustainable choice. By using cellulose from trees, Water 99% wipes can biodegrade fully."

"Skin friendliness is a key purchasing criterion for baby wipes and the smooth surface of Tencel meets this request, since it cleans effectively whilst pampering sensitive baby skin. In addition, parents value the security offered by the strong and bulky fabrics."

"Winning the Kids Design Excellent Award is a great honour for us and our suppliers since it rewards our clear focus on the requirements of a new born or toddler," adds Kenichi Fujiwara, general manager of Akachan Honpo.

The company includes the Tencel logo on its packaging and the fibre properties are illustrated on accompanying promotional materials. Different package sizes as well as several cross promotions with branded diaper products have also driven the success of 99% Water baby wipes, which will now also carry the approved Kids Design logo.

Lenzing will be promoting Tencel at the forthcoming SINCE nonwovens show in Shanghai from October 12-14.
Log in or subscribe to see this content