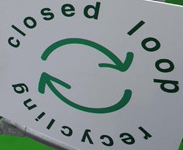 Closed Loop Recycling plans to double the capacity of its PET bottle recycling plant in Dagenham, East London, UK.

Established in 2008, the company is currently capable of recycling 35,000 tonnes of bottles each year – 875 million bottles that would otherwise have been exported for recycling or sent to landfill. This represents nearly 10% of the plastic bottles that are currently collected for recycling in the UK, saving approximately 52,500 tonnes of carbon dioxide emissions annually.

The expansion will lead to the creation of potentially hundreds of new green jobs throughout the packaging and recycling industries, including more than 100 new or safeguarded jobs at the Dagenham site itself.

The plant in Dagenham is the first to use state of the art technology to sort, wash and super clean both PET and high density polyethylene (HDPE), meeting EU and US FDA standards.
The resulting rPET and rHDPE is then used to make new bottles and food packaging.