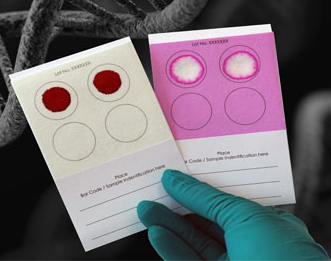 Ahlstrom Filtration's new GenCollect and GenCollect Color are two new products designed for the forensics and genomics community which provide an easy and cost effective solution for the collection of DNA from biosamples, allow short term storage at ambient temperature and simplify downstream extraction processes.

They are suited for a wide range of applications including genotyping, forensics and paternity tests.

Ahlstrom GenCollect cards are recommended for easily identified samples such as whole blood. Ahlstrom GenCollect Color cards are used with clear samples such as saliva, buccal cells or urine. The cards deliver an ideal solution for a wide range of applications including polymerase chain reaction (PCR), real-time PCR and short tandem repeats (STR) analysis.

Key features include:

Simple collection.
Nucleic acids stabilisation for short-term ambient storage.
Cost and time savings in DNA purification.
Faster downstream analysis.