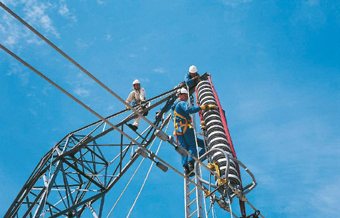 In the latest issue of the INDEX 17 Newsletter, it's reported that German nonwovens manufacturer Norafin has developed a range of materials for electric arc protective clothing under the Kommanda brand which incorporate Lenzing FR fibre.

Lenzing FR is a Modal-based, inherently flame resistant cellulose fibre which is famously employed in combination with DuPont's Nomex in Defender M fabric made by TenCate, which is the US Army's flame retardant material of choice. A waiver of the so-called 'Berry Amendment' – which rules that US military products and their raw materials must be made in the USA wherever possible – is in place to allow Lenzing FR to be supplied from Austria, such is its uniqueness.

Norafin's Kommanda fabrics are spunlaced nonwovens in composite structures, with different basis weights and layers combined to meet required performance levels. They match all regular textile requirements in respect of strength, laundering and dye fastness, and have shown impressive results in testing for arc flash protection, comfort and moisture management.

Heat from an electric arc is a major hazard faced by workers in a number of industries, and one from which they must be protected by suitable personal protective equipment (PPE).
Electric arcs are basically ionised gases caused when electricity travels through air – a continuous electric discharge of high current between conductors generates very bright light and intensive heat. As such, there is always the risk of severe burn injuries that could potentially be fatal. The electric arc also generates other severe hazards such as the very intense light, a high pressure wave, noise and toxic fumes.
There are reported to be between five-to-ten arc flash explosions in electrical equipment every day in the USA, with anywhere between 1,000 and 3,000 electrical accidents at work reported each year in Europe.
To date, the majority of suitable arc flash protective apparel has comprised relatively heavy, woven materials based on highly heat resistant fibres such as DuPont's Nomex. These have proven performance and durability and are readily available on the market. Nonwovens, by comparison, have on the whole proved unsuitable for such end-uses due to durability and comfort issues. As a consequence, they have been employed only in limited-use applications.
Lenzing and Norafin, however, worked together to develop the new advanced range of Kommanda materials that allow advanced performance levels and higher degrees of comfort to be engineered into arc flash protective clothing.
The test for for protection against the thermal effect of an electric arc is subject to norm IEC 61482-2 with data quantified by its
ATPV – Arc Thermal Performance Value. This represents the maximum incident energy (in calories per square centimetre) that a fabric can support before the wearer suffers a second degree burn.
The Kommanda fabrics have been shown to possess an ATPV rating nearly three times higher than currently-available commercial arc flash protective apparel. In terms of overall performance, a 400gsm Kommanda spunlaced nonwoven will perform as well as a 600gsm woven material.
Another extremely important property, is the fabric's moisture management properties. Often, physical exercise leads to heat stress, as a result of the low efficiency of muscular work, and optimising physiological performance is dependent on the optimisation of body cooling. The sweat vapour absorption rate of Kommanda is four times higher than comparable fabrics.
This is a convincing new advantage that these spunlaced nonwovens will bring to the next generation of arc flash protective clothing.
INDEX 2017, the leading nonwovens show, takes place at the Geneva Palexpo from April 4-7 2017.