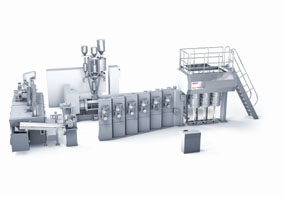 Of special interest to the manufacturers of carded nonwovens who may be considering backward-integrating into staple fibre production is the new Oerlikon Neumag Force S 1000 system.
Introduced at INDEX 14 in Geneva, the Force unit is characterised by a compact construction and a highly attractive low initial investment
But in addition, energy costs are significantly reduced by replacing steam and water baths through a dry drawing process.
"The Staple Force S 1000 is directed at downstream integrators, who in future want to produce the fibres for their products in-house," explains Rainer Straub, vice president of product management Oerlikon Manmade Fibers. "It allows manufacturers to both produce and further develop high-end products without disclosing know-how and without quality fluctuations."
The new plant is specially laid out for the economical production of staple fibres in small lots of up to 15 tons per day.