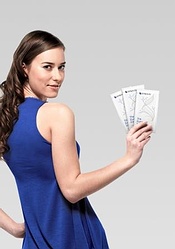 Sandler and Lenzing are jointly marketing a new wipe under the brand Eurocel, to be introduced at the forthcoming INDEX 14 show in Geneva, Switzerland from April 8-11.

Eurocel is based on the idea of promoting the benefits of a high quality European product directly to consumers, based on cellulose fibres made in an environmentally responsible process by Lenzing in Austria and converted by Sandler in Germany.

"Production in Europe translates into shorter delivery distances which means fewer carbon dioxide emissions during transportation and thus a lower carbon footprint," says Sandler's Ulrich Hornfeck. "This is in addition to the product properties of the wipe, which is extremely skin-friendly and also has improved volume, a higher tear resistance and reduced elongation. We are well known for quickly putting our ideas into practice and we immediately recognised the potential of Eurocel for the European market."
"The goal is to persuade other nonwoven manufacturers of this European idea and offer a convenience care product which complies with today's consumer demands – sustainable, natural, and high quality," adds Elisabeth Stanger, head of Lenzing's Hygiene business."
Eurocel can be awarded with the raw material certification label PEFC, Oeko-Tex Standard 100, ISO 9001, ISO 14001, OHSAS 18001, European Ecolabel, Compostable (DIN CERTCO), Vinçotte OK compost HOME, Vinçotte OK compost, Vinçotte OK bio-degradable SOIL, Medically tested / ITV Denkendorf, US BPI compostable certificate and food contact compliance certification.