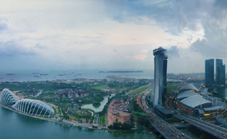 After a first highly successful first Outlook Asia in Singapore this week (March 13-14), EDANA is rapidly expanding its new Outreach plan, with a Latin American event next on the schedule.

With over 220 delegates from 98 different companies coming from 26 countries to Singapore, the whole supply chain for absorbent personal care products and wipes was present at conference.

EDANA's Outreach programme has been designed to provide high-quality information, conferences and networking events to the global nonwovens and related industries, particularly outside Western Europe, and Outlook Latin America will be the next step, with dates and venue to be announced shortly.

In view of its success, it is already clear that Outlook Asia will be repeated, with further extended features based on participant feedback. Product presentations offered during Outlook Asia have been particularly well received by companies, EDANA reports, and are likely to be repeated at future events.