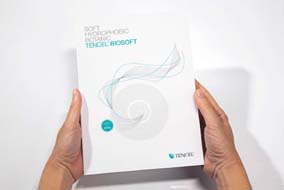 At this week's Dornbirn Manmade Fibers Conference in Austria, Lenzing introduced its latest fibre for nonwovens trademarked Tencel Biosoft and aimed at the wipes and personal hygiene markets.

Lenzing's CEO Friedrich Weninger said that Tencel was already the fibre employed in the best-selling baby wipe produced by Costco in North America, with sales of around 70 million packs per year. A further contract with a separate wipes supplier is expected to lead to further sales of some 40 million packs.
"The Costco production programme accounts for around 18,000 tons of the total viscose employed in North American wipes of around 70,000 tons," he said. "And the wipes are not the cheapest, which is proof that consumers are looking for differentiated products."

New Tencel Biosoft brings further benefits to wipes producers including that it can be used for oil absorbency while retaining its biodegradability.

Bianca Schachtner, project manager new products business for Lenzing Nonwovens further explained that its development followed trials for new materials for oil clean up in the wake of the Deepwater Horizon oil disaster in the Gulf of Mexico in April 2010.

"During our extensive research work, we realized that the actual benefits of the new fibre went far beyond the original objective," she said. "In addition to having developed the first hydrophobic and sustainable Tencel product, the new fibre turned out to be extra soft, smooth and functional making it an ideal base for sensitive nonwovens applications."

In wipes, Tencel Biosoft can be used in a variety of blends which tailor the absorbency and cleaning performance to suit a number of different functions, from full oil absorbency through to specific lotion management.

In addition, in hygiene product top sheets it will provide excellent liquid strike through times and wet back properties to ensure a comfortable dry feeling to the skin. It meets the performance of commercially available synthetic products while adding a botanic value, since Lenzing's cellulose fibres are made from wood sourced from responsibly managed forests.

"We already have Tencel top sheets feminine hygiene pads in the US, and others in Korea and Japan. There's no reason why Tencel shouldn't extend to back sheets and mid layers also, and the eventual aim is a 11% cellulosic product."