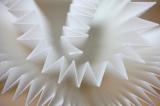 A new saturator line with state-of-the-art control equipment enabling the production of very consistent, clean and high quality filter media is central to nonwovens leader Ahlstrom's new €17.5 million investment at its plant in Turin, Italy.

The line is expected to begin commercial production during the third quarter of 2012, slightly ahead of schedule.

"This capacity increase in Turin is an important step for Ahlstrom's Filtration business area," said Tommi Björnman, executive vice president for Filtration. "We are committed to growing with our customers as a global supplier in the filtration market with a full offering of filter media. In providing the latest technology, both for transportation and advanced filtration materials, we will help our customers stay ahead."

Ahlstrom is the global leader of filtration materials with 11 production sites across four continents. Earlier this year, it completed significant upgrades with various filtration testing and simulation equipment at its Global Filtration Technical Centre in Turin.

Globally, the filtration industry is estimated to be worth an annual US$60 billion and the nonwovens going into it have a value of around $2.5 billion.

The need for purer air and cleaner water are just two of the reasons why the industry has such excellent prospects for future growth.

The large scale treatment of fresh and waste waters is currently the largest end-use market sector for filtration and also one of the fastest growing. Filtration for bulk chemicals and petrochemicals manufacture is the second largest.

A demand for finer degrees of separation in industry – from hydraulic oils to semi-conductor wash water – is another key reason for growth, as is the need for better hot exhaust gas filtration, including diesel exhausts, and for higher energy efficiencies in all separation operations.

In coming years, it is also envisaged that filtration will have a vital role to play in addressing the problem of diminishing oil and gas availability.