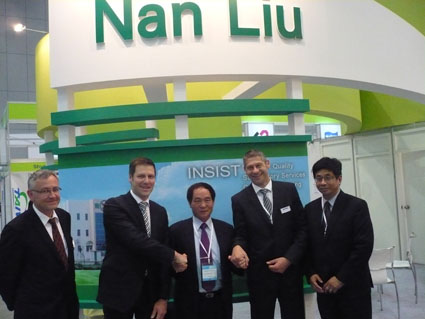 Very low energy consumption is one of the key benefits of the latest Andritz spunlace lines for the production of lightweight nonwovens for wipes and medical materials.

One of the leading manufacturers of these materials is Taiwan-headquartered Nan Liu Enterprise, which has just ordered its fourth Andritz line – at 6.2 metres wide the biggest supplied to date.

The line is being installed at Nan Liu's Pinghu plant in China and consists of an Andritz Perfojet JetlaceEssentiel with a Perfodry3000 through-air dryer, will produce lightweight fabrics for wipes and surgical applications, operating with

Pictured formalising the order are (left to right) André Michalon, sales director at Andritz Perfojet, Andreas Lukas, president of Andritz Nonwoven, C.S. Huang, President of Nan Liu Enterprise, Didier Vulliet, managing director of Andritz Perfojet and Paul Cheng, general manager of Nan Liu.