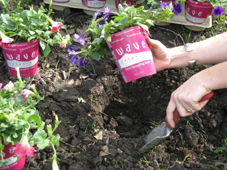 Mirel biopolymer-based Ball SoilWrap plant containers have recently been introduced in the US.

Made from 100% renewable Mirel produced by Metabolix, the bottomless plant containers biodegrade naturally in soil.

Their design promotes fast plant growth and eliminates transplant shock by immediately bringing roots in direct contact with soil. Once planted in the garden, SoilWrap degrades by becoming food for soil microbes.

"As a leader in the horticultural industry, we are dedicated to providing gardeners and landscape professionals with new, more sustainable solutions that promote healthy plant growth, enable consumers to reduce waste and empower retailers to differentiate product offerings," said Bill Doeckel, general manager of Ball Innovations. "Metabolix invested significantly in research and development to create its Mirel biopolymers, which we have tested extensively."

Mirel is completely biodegradable in natural soil and marine environments, but delivers the same performance characteristics as many oil-based plastics, including printability and heat resistance. Mirel and SoilWrap are both listed on the USDA Biopreferred programme, which designates biobased products that are preferred for purchase by federal agencies and their contractors.