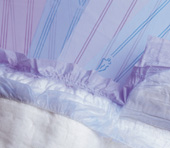 The localisation of raw material supply chains for Procter & Gamble's global diaper manufacturing continues, with the news that RKW Group has started production at its first plant in Egypt.

The comany has built a totally new manufacturing facility in Cairo involving investment of US$30 million.

The localisation of materials supplied will in turn reduce the carbon footprint of diaper materials, develop the local Egyptian economy and generally ensure a more responsive and environmentally friendly supply chain.

Procter and Gamble strategically partners with RKW to purchase films and nonwovens for diaper manufacturing and has awarded the company a 'Supplier of Excellence Award' for three consecutive years.

The new plant, RKW Egypt, occupies 20,000 square metres of land in the 'City of 6th October' near to P&G's own manufacturing. The industrial park is located 35 kilometres southwest of Cairo and only a few kilometres from the pyramids of Giza.

Initially, it will employ about 40 people. Manufacturing includes a state-of-the-art embossing calender and an extrusion line and German specialists are currently training local workers and preparing for the start of series production.

RKW is one of the leading international manufacturers of polyethylene and polypropylene films, nonwovens and nets. The family-owned company employs over 2,800 people at 21 locations and generated sales in 2010 of US$ 1.1 billion.