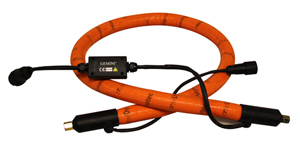 Global hot melt machine supplier ITW Dynatec has reintroduced its Gemini Hose to the market. The heated hose has dual sensors and heaters which can be activated when a hose fault occurs, aiming to reduce machinery downtime.
Significant for nonwoven converting companies as a component for hot melt adhesives applications in in diaper construction, the Gemini Hose provides an alternative to traditional single-strand hot melt hoses.
ITW Dynatec designs and manufactures hot melt applications for disposable hygiene products, coating and laminating, and packaging industries.
For nonwoven materials, ITW Dynatec offers Apex slot die and UFD fiberised spray. The company's Apex slot die technology is available for applications requiring a solid barrier or coating on a nonwoven substrate, while UFD fiberised spray allows customers to create a product with flow characteristics between two composites.
Web: www.itwdynatec.com