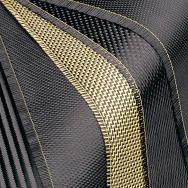 Sigmatex is to invest €2.8 million in new equipment including a Liba multi-axial line with a dedicated Meyer powder coating range incorporating infrared heating and a belt press to enhance its production of nonwoven fabrics for composites.

The company's plant in Runcorn, UK, will also be equipped with a number of new Dornier weaving looms for both production and research and development, as well as open reed weaving equipment.

The investment will result in a more than a 20% increase in operational staff at the Runcorn plant.

"Through the commitment of the board and the considerable efforts of the workforce, Sigmatex will continue to lead material innovation within the composites market through textile and operational excellence," said general manager Ian Marchant.