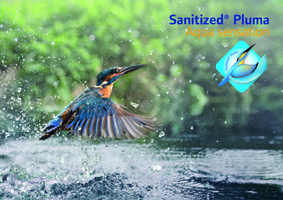 Sanitized AG has received the 2013 Swiss Technology Award in the 'Sustainable Leader' category for its new Sanitized Pluma technology.

This is billed as the first worldwide anti-adhesive hygiene treatment for textiles and nonwovens which employs mechanisms from medical engineering to inhibit odour-causing bacteria.

Developed initially to inhibit bacterial formation on prostheses and reduce the risk of infection, Sanitized has adapted the technology in partnership with Empa, the Swiss Federal Laboratories for Materials Science and Technology.
The key property of Pluma is that it inhibits bacterial colonisation on the surface of fibre-based materials by fixing a microscopically thin film of water to them.

"With Sanitized Pluma we have succeeded in our efforts to create a new milestone in textile finishing," said the company's innovation manager Dr Heinz Katzenmeier. "It is safe, well- tolerated by the skin and environmentally sound in the application and handling of finished textiles represnting the answer to the growing need for freshness and hygiene."

The Swiss Technology Award is initiated by the Swiss Economic Forum to promote entrepreneurship and the culture of innovation in the country.