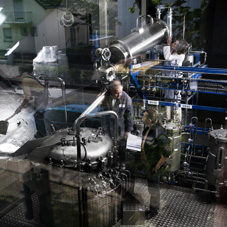 BRAIN – the Biotechnology Research and Information Network AG, based in Zwingenberg, Germany – has formed a new research alliance with the Hohenstein Institute, cellulosic fibres specialist Kelheim Fibres and medical textiles manufacturer Rökona to advance the biotechnical production and modification of speciality alginates.
The aim of the AlBioTex project is to establish a sustainable microbial bioprocess for the production of specialised alginate components with applications in both topical and wound-phase specific wound dressings and in other advanced textiles and nonwovens.
"We want to build a high-quality bio-based matrix system and at the same time, a sustainable process in terms of the yield and techno-functionality of the biopolymers," explained Dr Guido Meurer, head of microbial production technologies at BRAIN. "BRAIN has been an active researcher of bioactive substances for use in medical products for several years. These substances are subsequently introduced into appropriate biological matrices and ultimately into modern wound dressings."
It is envisaged that microbial production organisms for the biopolymers will be developed in appropriate biofermentation processes on an industrial scale.
"Until now, the variation and optimisation of the material properties of alginate was either not possible at all, or only possible with immense effort," said Dr Timo Hammer, head of research at the Hohenstein Institute's Department of Hygiene, Environment and Medicine at and coordinator of the AlBioTex project.
"Joint research in the two fields of textiles and medical technology is another prime example of the intensification of the biologisation of industries," added BRAIN CEO Dr. Holger Zinke. "Biological knowledge is the driving force of the bioeconomy and industrial biotechnology is one of its most important fields."