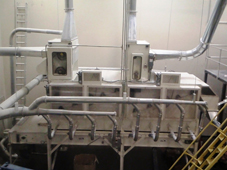 The Ibis International Zero Waste System allows the reclamation of three distinct and clean fractions from reject hygienic disposables – superabsorbent polymer, fluff pulp and plastic/nonwovens.

There is a global market demand for all three of these materials. Manufacturers, says the company, are mainly interested in reclaiming the fluff pulp and SAP from reject products to recycle back into their production, while the plastic and nonwoven scrap can be sold to the plastics recycling industry.

The Zero Waste System continues to evolve as a viable means of reducing cost and minimising solid waste disposal for producers of hygienic products such as baby/adult diapers, feminine hygiene products, bed pads, etc., utilising a multi-pass process of mechanical agitation, centrifugal force and air classification. The end results is baled fluff pulp and plastic and bagged SAP.

There are many variations of this system depending on the products being processed, the requirements for the separated fractions and how to handle each of the separated fractions. The most basic system separates the fluff/SAP mixture from the plastic/nonwoven scrap and presents them in baled form. The more advanced system includes SAP extraction. This takes the fluff pulp/SAP mixture and separates the mixture into two distinct fractions.

The recycle feature of the system allows either the fluff pulp or the fluff/SAP mixture to be returned back to the production lines in controlled volumes. The recovered SAP can be used with existing SAP dosing equipment.