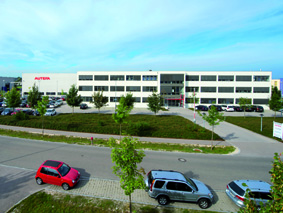 Autefa Solutions – the developer of highly efficient advanced nonwovens technology – is expanding its headquarters in Friedberg, Bavaria, Germany (pictured).

The company, which unites the established operations of Autefa, Fehrer, FOR and Octir under one roof has been part of the Chinese CHTC group, the largest manufacturer of textile machinery in China and the second largest globally, since September 2011, and is now well represented both internationally and in the all-important Chinese market.

As the centre of development and order processing, the Friedberg plant is responding to the demand from premium customers for new, state-of-the-art technology from a single source, bringing together bale presses, fibre preparation and carding machines, crosslappers and needle looms, in addition to there machinery for wool processing and consumer goods automation.

The three Autefa Solutions locations in Friedberg (Germany), Linz (Austria) and Biella (Italy) are also being be more closely and efficiently harmonized.

In Linz, the focus will continue to be on needle looms and their components, where the technical centre for nonwoven technology will be constantly equipped with the most modern technology. Significant investments are also being made to drive expansion at Biella, which will continue to act as the centre for carding and fibre preparation technology.

In addition further expansion is planned in China for the manufacturing of machines tailored specifically to the Chinese market in collaboration with CHTC sister companies.