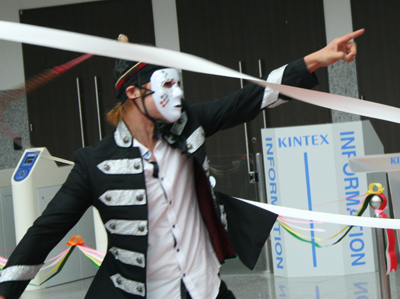 KOREA – Asia's nonwoven production reached 3.09 million tons in 2011, said Wang Yanxi, chairman of ANFA, the All-Nippon Nonwoven Fabrics Association, at the opening ceremony of the ANEX 2012 exhibition in Seoul, Korea on Wednesday (June 13). By Adrian Wilson.
Yet the per capita consumption of nonwovens in Asia, he added, is still far behind that of Europe and North America – illustrating the potential that still exists for significant growth in the region.
The show has attracted 237 exhibitors from 24 countries, with major fibre and nonwovens producers from Japan such as Teijin and Toray very prominent.
Teijin is featuring no less than 15 of its recent innovations, including:
V-Lap vertically lapped cushioning material.
The Eco Circle closed loop recycling system.
Nanofibre oil blotting paper featuring the company's Nanofront technology.
Unisel multi-layered heat sealing materials for unique packaging applications.
These will be showcased in a feature in the 3rd issue of Sustainable Nonwovens, as will the Toray polyester nonwovens which form the basis of RO membranes for water filtration, along with a full report from ANEX 2012.