HEMEL HEMPSTEAD – A vital new role for nonwovens in infection prevention has been developed by UK-headquartered Gama Healthcare.
Rediroom is a temporary, single-patient, isolation room designed to isolate infectious patients that can be assembled by a single person in less than five minutes.
The air-filtered isolation room features hands-free entry and exit and an integrated PPE station and is contained within a cart that can easily be wheeled to any patient, wherever they are within a hospital.
Prevention
As Gama Healthcare's clinical director, Martin Kiernan is a past president of the Infection Prevention Society and also a visiting fellow at the University of West London and conjoint fellow at the University of Newcastle in New South Wales.
"At heart I'm an infection prevention and control nurse and I've worked in the NHS for thirty years in acute hospitals and community settings," he said, introducing the Rediroom concept at the EDANA Outlook online conference held from April 21-23. "Most recently I've been back at the NHS supporting the Nightingale Hospital in London which was rapidly built inside a convention centre to help us out during the coronavirus pandemic."
Isolating people is extremely important, he added.
"We do it all the time because we need to separate those who have pathogens from people who are vulnerable to infection. Patients coming into healthcare settings are vulnerable because we create ways into the body that pathogens don't normally get a chance to get into, through intravenous lines, urinary catheters, surgery and more, and an organism that wouldn't bother us if we're well can cause significant problems when we're ill.
"What we tend to do, is separate people physically and that stops the contact and the environment around people becoming contaminated. We know that many healthcare pathogens can survive for months, or even years lying around in the environment if we don't physically remove them, so it makes sense to try and restrict them to certain areas. Aerosols can be a problem – as we've seen most recently with coronavirus – so segregating the infected from the non-infected, or those we think are non-infected, is a cornerstone of infection prevention and control."
But around the world, he added, healthcare facilities differ greatly.
"Not that long ago in the UK you would find 28-bed wards and while we're not in that situation anymore, it's quite common to find bays of four, six or eight patients in the UK NHS. We don't yet have the luxury of places like the USA, where patients are generally in single rooms. What can happen sometimes, if you have a particular cluster of infections, is that you may actually put people with the same infection together to protect others, but of course they may also carry other pathogens and can still transmit infections."
Infections
Problematic infections in hospitals include MRSA, norovirus, influenza, C.Diff (clostridium difficile) and even TB.
"I think of TB as pretty much like Barry Manilow – something horrible that happened a long time ago – but we still haven't quite managed to get rid of it," Tiernan said. "We've also had big outbreaks of C.Diff and studies I've done in the past have clearly shown that the hospital wards that are the best at isolating people have the least infections. C.Diff lives in the gut and can be treated with antibiotics, but unfortunately anti-biotics can also knock out good bacteria and when some strains multiply, they produce toxins which then lead to profuse infectious diarrhoea. These patients are isolated very promptly."
New gram-negative bacteria have also become extremely resistant to antibiotics in recent years, he added, with resistance to carbapenams, the last really new good group of antibiotics introduced, already evident.
Bed capacity
In the UK, 93% of UK hospitals have less than 50% of their bed capacity in single rooms and there is only one that has over 80% single rooms – a brand new paediatric hospital in Liverpool. The average is 22%.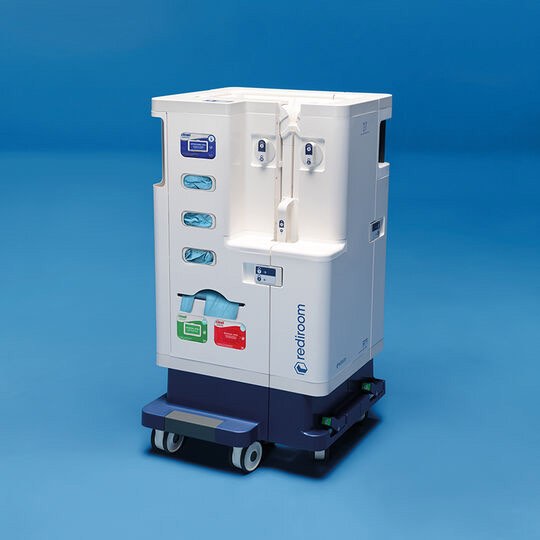 "As a result, infection control teams are constantly making risk assessments and one day a patient will be in a side room because they're infected and the next day a patient will come in with a more significant infection so the earlier patient has to be moved, Tiernan said. "The problem has, of course, been highlighted by Covid."
Increasing single bed capacity is not possible without losing beds or incurring huge building costs and causing major disruptions. Temporary facilities are available, consisting of semi-permanent static pods but while they work very well, they have solid walls and are intended to be in place for a period of around six months.
Requirements
There has been huge potential for a single use disposable system but in the eight-year development and testing period of the Rediroom, Gama's aim has been to ensure it was both functional and met all necessary guidelines.
The structure's HEPA and carbon filters remove 99.995% of particles down to 0.3 microns – more efficient than an N95 respirator and small enough to trap respiratory droplets and bacteria before air is returned to the ward.
"It was never designed to be used for aerosol as such, because it hasn't been tested in that way, but many hospitals are now using it for coronavirus because they have absolutely nothing else," Tiernan said. "The important thing is that it's deployable within five minutes and is easy to decontaminate, because the whole of the inner canopy is single-use and disposable."
The structure consists of a PP spunbond canopy roof and double laminated PP/PE spunbond walls with PVC windows, and is sealed in place with double-sided peelable tape. All materials are treated with anti-static, anti-flammable and anti-odour agents.
Thorough cleaning of the cart once the disposables are removed takes around 15 minutes.
Practicality
"The practicality of Rediroom is really helpful in a busy healthcare setting and it isn't just for Covid strategies," Tiernan concluded. "Other hospital pathogens are available and the list is growing, as well as antibiotic resistance, so this has the potential to impact greatly on healthcare anywhere around the world.
"I have to say, personally, without the nonwovens industry working at the coalface during the pandemic we would have been really struggling. I cannot speak highly enough about how it's adapted and been able to support people working in healthcare."