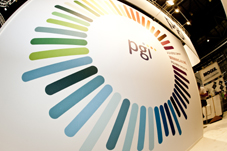 Polymer Group (PGI) is introducing its new Everist brand filtration media at this week's INDA Filtration2014 International Conference & Exposition in Baltimore.
The nanofibre-based technology offers enhanced mechanical efficiency, low pressure drop and excellent dirt holding capacity to companies in heating, ventilation and air conditioning (HVAC) or other industries reliant on high efficiency filtration media.
Everist is said to outperform traditional mechanical media in multiple key areas including:
The media provides a higher initial efficiency and the same mechanical efficiency as glass, while providing the same initial efficiency and a higher discharge efficiency compared to synthetics.
The nanofibre-based technology in Everist media provides half the pressure drop of glass media and is similar to electrostatically-charged synthetics.
Everist doubles the dirt holding capacity of synthetic composites and has a similar capacity to glass.
It pleats on both rotary and blade pleaters and can be sonically welded.
This material is both more durable than glass and greener than traditional media.
The launch of Everist represents the culmination of recent investments at PGI's plant in Waynesboro, Virginia.