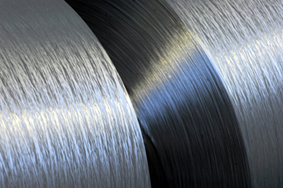 Trevira is exhibiting at this year's JEC Composites show in Paris for the first time this year, in order to showcase its range of flat and textured filament yarns, either in raw white or spun-dyed, as well as special staple fibre types for use in composite materials.
With its flexible, in-house PET polymer production and more than a decade's involvement in the multi-layer fabric segment, the company also supplies customised sewing threads and stitchbonding yarns for the sector, in addition to end-use hybrid yarns based on regular filaments combined with low-melt threads and inherently flame retardant versions.
Trevira's low-melt polyester chips, filaments and fibres are also employed in thermobonded prepregs and special low-melt polyester polymers with melt temperatures varying from 130-205°C allow the melt temperature to be adjusted according to requirements. These are available either in 100 % low-melt polyester or as hybrid yarns in various sizes. Other products for thermal bonding include staple fibres and bicomponent types.
Composite prepregs bonded with Trevira low-melt polyester are sustainable and recyclable and help to reduce waste rates in the prepreg process.