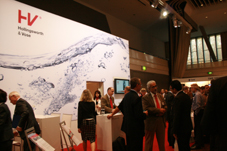 Hollingsworth & Vose announced at last week's Filtech show in Wiesbaden, Germany, that it will add NanoWave filtration media production capability at its plant in Hatzfeld, Germany to support the rapid growth in demand for high performance filter media.

NanoWave – which won the IDEA13 Achievement Award for rolled goods at the Miami show – achieves higher levels of filtration efficiency at reduced pressure drops.

The Hatzfeld production line is expected to start operations by mid 2015. H&V currently manufactures NanoWave media in the US at its plant in in Floyd, Virginia.

"In addition to the European capacity expansion, further performance improvements and next generation product developments will result in increased service levels for our European customers," said Jochem Hofstetter, vice-president and managing director EMEA.