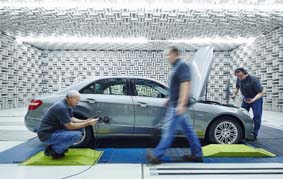 The European automotive interiors industry is under investigation by the German anti-trust authorities under suspicion of fixing prices since at least 2002 on certain nonwoven and textile components employed in areas such as flooring systems and boot linings.

The offices of Autoneum, Borgers AG, Faurecia, IAC Group, Magna International and one other company have been searched by the cartel office in the German states of Baden-Wuerttemberg, Bavaria, Hesse, Lower Saxony and North Rhine-Westphalia.

All of the suppliers have pledged to cooperate with the investigation.

In the US, a similar probe has led to 11 companies and 19 executives being charged with offences and 14 of them being imprisoned for between one and two years each. More than $874 million in criminal fines have been imposed on the companies involved.

A recent report prepared by Gherzi for Techtextil 2013 puts Autoneum, with sales of €1.72 billion in 2012, at the top of Europe's nonwovens producers, followed by Freudenberg, DuPont, Ahlstrom and Kimberly-Clark.

Two further manufacturers of automotive interior products – Trèves of France and Germany's Borgers – are in sixth and ninth place in Gherzi's rankings respectively.