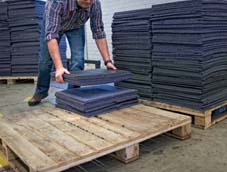 In 2011, an estimated 750,000 carpet tiles – a significant percentage of which were needlepunched nonwovens – were reused or recycled in the UK, representing a diversion rate of just 1.4%.

The situation is changing fast, however,with 15 Carpet Recycling UK (CRUK) member organisations comprising five reuse organisations and ten recycling or fuel flock specialists now equipped to tackle this 64,000-ton waste stream.

Projects for carpet tile recycling and reuse include Desso's nationwide collection and recycling Take Back programme and Greenstream Recycling's national re-use/recycling collection for local social benefit.

"Raising awareness within these sectors is crucial for us in finding useful second lives for carpet tiles and diverting a readily-recyclable resource from landfill," says CRUK director Laurance Bird. "Having made a great start, there is still much more we can do. We are very keen to hear from organisations who wish to recycle their unwanted carpet tiles and put them in touch with collection schemes, recyclers and outlets. Opportunities are growing for re-use, offering potential savings on disposal costs while contributing to Green Procurement policies and eco-credentials."

Desso's Take Back programme accepts used tiles from any source and aims to ensure zero goes to landfill by turning old tiles into new flooring products or using them in other recycling initiatives. Participants receive certification that the material was recycled according to Cradle to Cradle principles.

In the recent refurbishment of Wales and West Utilities Headquarters in Newport, South Wales, the company supplied 3,600 square metres of new Freestyle carpet tiles, but also recovered the old carpet tiles which were cleaned and reused in other local projects.

South Wales-based social enterprise Greenstream Flooring CIC diverted more than 36,500 square metres of unwanted carpet tiles in 2012, 70% of which was reused by themselves and their national network of community re-sellers.
Carpet Recycling UK was formed in 2008 to tackle the 400,000 tons of waste carpet arising annually in the UK. Its target is 25% landfill diversion by 2015.