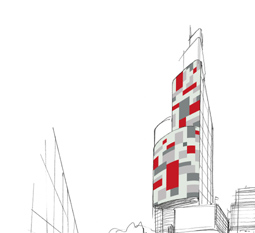 Johns Manville has teamed up with the Austrian producer of wood-based and laminate construction materials FunderMax to develop m.look – a new facade panel based on special Evalith glass fibre nonwovens and impregnation resins.

The key requirement for the develoment was that the panels must meet A2 fire retardancy requirements, while allowing FunderMax to offer the full variety of decors for which it is well known in the market.

As such, the cellulose-based papers that are employed in current FunderMax compact panels have been replaced with specially-designed functional layers of glass fibre nonwovens. FunderMax developed a sophisticated resin crucial for the fire retardant properties and capable of withstanding the most-severe tests for variable climatic environments.

The new panels open up completely new areas of application in construction projects, making colourful new design geometries possible on building exteriors.

"We have worked for a long time on the development of fire-proof facade panels and have invested a lot into this project," said Rene Haberl, managing director of FunderMax. "The collaboration with Johns Manville was extremely professional and offers exciting perspectives for the future."